Life Strategy # 2: "Show Up & Be Seen"
Phenomenal life-affirming, life-thriving, life-uplifting strategies are being delivered by Our Lord Jesus on the lean side of the mountain.
"Oh, The Bliss to you when people insult you, persecute you and falsely say all kinds of evil against you because of me. Rejoice! Be glad! Great is your reward in heaven. In the same way they persecuted the prophets who were before you."
Action Plan: Show Up; Be Seen, "Oh, The Bliss! Step out and step in." And what a place it is to step into! Phewy! Jesus gets personal with me, demonstrating we are each created with the capacity and seeded the ability to really be who we are. For that's what the universe needs! (What about you?) It takes courage to be authentic, doesn't it?
Rejoice! Be Glad!
Great is your reward.
They persecuted our predecessors too!

---
Welcome to my 'inter-personal' share!
You are the salt of the earth. Rejoice. Step Out. Step In.
"If I couldn't handle not being good at something then how could I consider myself successful." Gerald (the lad who knew he couldn't swim accepted on a swim team with a coach who fosters authenticity and courage).
What is salt?
"You are the salt of the earth." This is a powerful metaphor. Yes, Jesus is using a metaphor. Wow! It is pregnant with meaning and has an enormous impact across time and space. Today, Jesus is speaking to me! You too? No? That's okay.
What is salt (to you)?
Can you guess (or ascertain) what 'salt' means to me? Or anyone else for that matter?
"Salt of the Earth!"
To be fair I should share a pinch of what I've learned about salt over a coarse period of time. You see when this metaphor was first being delivered, those original tongues did not have the same sense of salt current hearers necessarily share, and yet through millenia and across a myriad of evolving cultures this metaphor has not lost its punch! Isn't that something?
I call that stamina - staying power - endurance! Ahem - Awesome!
Now I promise not to get emotional! Not that emotion is a bad thing. Absolutely not! (We'll come to that later in this series.) Empathy, though - well, let's keep empathy in play. Empathy is a trait I value. It is a design feature for the most part - seminal to a rich human experience. Empathy is a cohesive force. And I'd like to remain stuck to it while exploring this metaphor.
Just because!
Besides! "Our own wellbeing is deeply tied to the wellbeing of others: danger is shared, pain is shared, joy is shared, achievement is shared, 'home' is shared, 'sustenance' is shared." Boyd Varty.
We are inextricably bound. Humanity, that is. Natue, that is. The universe. M-hm. You. Me. Them.
Oh, boy!
Sweet Pea, that's a huge mouthful. You in de pot. Believe me. Let that simmer.
Salt is a life essential. Salt enjoys a variety of uses and symbolism and meaning unique to cultures and communities and consciences. Here is a grab bag of usage, symbolism and meanings. Add your collection to the list.
preservative
seasoning
flavoring
purity
Springtime
covenant of friendship
mother of all life
death
disinfectant
essential nutrient
currency
necessary for fluid balance in the body
protection
enslavement
wisdom
sterilizer
high blood pressure
hypertension
healer
What is salt to you?
Oooops! There it is again - that brilliant concept - an undergird of sound life strategies - BALANCE! I need practice. Here I go again - not gonna give up working it, working it, working it. Work it with me, work it. This is a new day. Find your balance. Rejoice and Be Glad. Let me find mine.
Working it? If not yet, perhaps this video will seed the thought to begin. Today! Improve energy. Increase productivity. Extend endurance. Reduce stress. But of course, life is not all physical. There are other components to the joy of life connected to body, mind and spirit, which are enhanced by this week's Phenomenal Life Strategy reveal, Show Up & Be Seen, a reality appearing much clearer when viewed through the blessed metaphor: Salt of The Earth!
To show-up one has to get up and go! Where? This reveal is NOT about where. This reveal is very much about STEPPING OUT. (One's willingness to accept one's own imperfection. One's eagerness to learn and discover, to stretch, to accept failure, to learn from failures, to acknowlege one's own weakness, to work on strengthening one's own revealed weakness. One's readiness to Be a Gerald!) Step out. Show up. This, for me, is about presence. It is about being present in body, mind and spirit. This is about being real. This is about being.
I was just oh-so-moved by a viral video (you probably saw it) where a little girl on stage, lined up for her a ballet rehearsal, got such a fright she began to cry, too petrified to dance, and her father (a lawyer), baby in hand at his chest, ran up on to the stage, took his crying daughter's hand and danced the ballet dance in line alongside her. And she danced. Oh, did she dance! That father showed-up. His showing-up moved me. It moved the audience. It is probably moving mothers and fathers and daughters and sons and siblings all across the world right this second, BECAUSE he SHOWED UP. His daughter was emboldened by his presence. That is showing-up - Being Present in time and space. Being! If you'd like to practice this kind of Being Present, you are welcome to check out The Hunks I Dreamed by yours truly from the I Dreamed You series. Presence is one of life's vital P's, necessary to BECOMING - that grandness and greatness of authentic being - that truth of self. Check it out! CLICK HERE. It will make for a great big difference. Your outcomes will be awesome. This is NOT about attendance. This is about being present - an attended body, mind, spirit and soul. This is about being!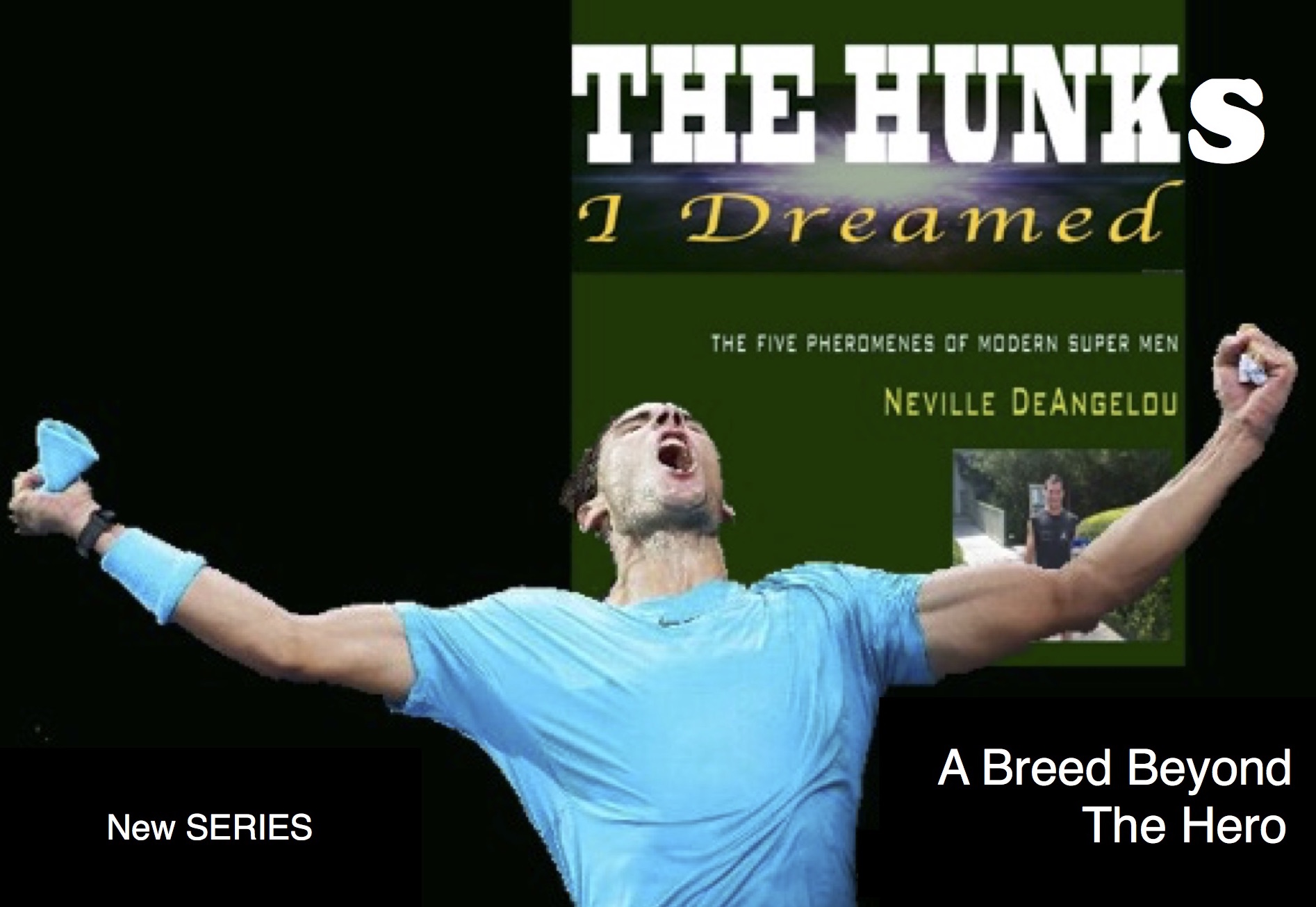 I find it hard to Show Up when I am knocked out, slowed down, or asleep! I've got to Get Up to Show Up. True? What about you? Let's be aware of the bigger picture, for this is a growth experience I find. Which brings me to that other part: Being Seen. First, here are some thoughts I encourage us to consider. Remember: share your thoughts with those in your group. Your experience is unique! So is mine.
---
Sleeping Effectively! Yes, that too is coming up on this Adventure Series.
---
You are
Salt of The Earth!

---
AMAZING
---
---
"I give them eternal life. They shall never perish, nor shall anyone snatch them from My hand. My Father, who has given them to Me, is greater than all. No one is able to snatch them from My Father's hand. My Father and I are one." All things are possible. Start with what is just outside your comfort zone. Believe. Act upon it. Step outside and breathe.
---
---
WORD TO THE WISE: Show Up and Be Seen.
Our other portion of this life strategy - Be Seen - is in NO WAY an elevation of NARCISSISM. In fact in our new reality - Oh, The Bliss - NARCISSISM, which is all about seing only oneself not in the truth of oneself; one's true self is hidden. A phenomenal thing happens when one let's oneself be seen! Awesome outcomes. It takes courage. It has a cost. But consider the ROI. Oooh-weee! (Issues regarding shyness, modesty, and the like are coming up, but you are welcome to consider this at any time - see what you unearth.)
Here, however, is something I learned practicing this strategy. I learned it from gardens and gardening.
En mass, a seed is not a seedling; a seedling is not a tree; the tree is not its flower; that flower is quite often not the fruit; none of these is essentially the same as any of the other, and yet they are all very much the same thing.
Recognizing this reality is as life-changing for the individual as it is for a parent, leader, mentor, coach, etc, I have found. See if you've found this to be true as well.
I find that if a seed is not allowed to be a seed, it is very likely not goiing to be nurtured into a seedling. If a seedling is not nurtured as a seedling it may never graduate into being a fruiful tree. You will drown it. You will choke it. You will stifle it. You will suffer it. It won't bear fruit. Everyone loses.
One might want to be a flower. One may be striving towards that, but until one is a flower it is the leaves that are available to be seen, per se.
Everything has an exception, of course, I have seen gorgeous fake flowers too. Life is what it is, isn't it? We do need a sense of humor. Maybe the universe obliges us more than our share. Ha-ha-hahh! Oh, dear me!
---
---
---
STAY BIG as You GRAPPLE or GRIP these.
STAY BIG Topics for Group DISCUSSION or Personal Reflection
A.
A THOUGHT: The story you keep telling yourself is prime for a revision; revise it and grow!
B.
From Jubilee! (How effective is your Personal Communication?)
---
---
---
"Knowledge that takes you not beyond yourself is far worse than ignorance." Elif Shafak.